This is an impromptu post – one that I couldn't really add to the thread.
On the top level, this blog is about GAME.  But you guys know that I think game is merely applied psychology.  Things I do in the romantic arena, I often grab from everyplace else.
After a while you start to see patterns.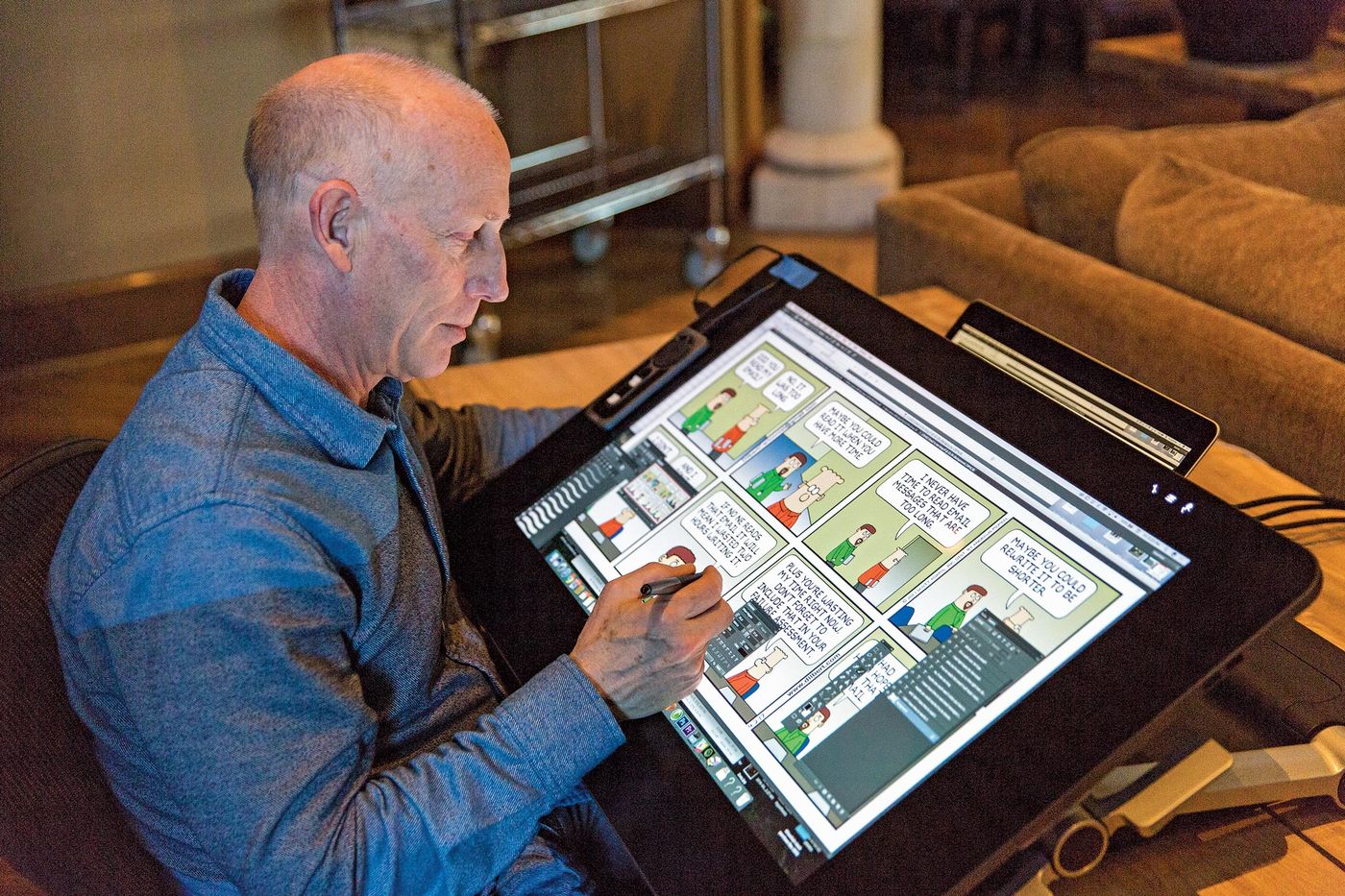 This is Scott Adams – he's a conservative guy that draws Dilbert.  He predicted the current presidential election.
This isn't a profile, or somebody in the press who clearly got it wrong trying to figure out how Adams was able to see the writing on the wall – it's a hatchet job, a character assassination.  Something that women often do to other women with little remarks here and there.  I had an ex that knew exactly what obviously true thing to comment on, such that the recipient was made to feel low.
Let me be clear – I think Adams may be right on the psychological opinions, but my politics are not his nor 45's.  I'm not sure how folks can come to a site named after West Indian Archie and think otherwise.
Let's start with the title
How Scott Adams Got Hypnotized by Trump
The key word here is *hypnotized* .  If you've read Adams's take on Trump, Adams's basically says that Trump was using a lot of actual psychological techniques – and that was a large part of how he was able to win the Republican Nomination.  Trump, according to Adams, was using hypnosis at a grand level.
The author here basically subverts Adams' argument and says that HE, Adams, got hypnotized.
Why?  Because most people 1) don't believe hypnosis is real, and more importantly, 2) only dumb people get hypnotized.
Scott Adams, the millionaire creator of the office-humor comic strip
Millionaire – again, the author is using true traits to describe Adam's, but these traits have CONNOTATIONS.  Without spelling it out, she hits on the idea that "Of course a millionaire is going to support another millionaire."
a fellow "Master Wizard," Adams's term for experts in hypnosis and persuasion.
Master Wizard is in quotes because that's what the style of newspaper journalism dictates – but again – using the quotes draws your eye and make syo generate ideas consciously and subconsciously.   This mf'er think's he's a wizard.
With about 10,000 readers on a good day, Adams's blog had a fraction of the audience of his cartoon…
Oh, he only gets traffic on a good day.  I would kill for 10,000 readers.  That's a ton of people.
But in the digital sphere, Adams was able to indulge his more outré interests and theories.
The key words here are "indulge" and "outré" .  Indulge has connotations of the negative, and "outré" – you don't need to know French to understand that these are "not mainstream".
At a time when virtually the entire professional political class was convinced Trump would self-immolate, Adams's essay reframed his actions as the deliberate work of a political savant.
Here it is again, Adams is on the outer fringe and wrong about 45.  This isn't neutral.
making himself indispensable as one of Trump's most appreciative interpreters
He was using Trump for his own ends.
he wasn't endorsing Trump, just doing his part to help the public better read a misunderstood candidate
He's "redeemable" in the voice of the mainstream.
Getting a comic strip, even one as occasionally edgy as Dilbert, into family newspapers requires observing a certain set of norms. Adams's viral analyses of Trump introduced many people, including me, to his more unusual fixations. Between political ponderings, he blogged about fitness and seduction, posting photos of his abs and writing a series of essays on how to deploy hypnosis and persuasion for better orgasms. "My language skills activate your sex drive, and you know it," he wrote at one point. So-called men's rights activists became vocal fans. I was just baffled
Norms vs Unusual Fixations – sets up the Us vs Him dynamic
Offering up game as something to be ridiculed. (I understand it)
MRA's are media codewords, a "dog-whistle" if you will.
"I was just baffled"  – It's not so much that the author was baffled by what Adams is saying, but that his world view does not comport with the rest of the world.
So what happens when the Author meets this strange guy?
He turned out to be soft-spoken and friendly.
Author expected him to be loud and antagonistic. (the exact sort of person that could invite a reporter to his house).  Author emphasizes this to the audience, because Author wants them to approach Scott the way the Author does.
At almost 60, Adams conveyed the energy of a teenage boy. Short and wiry, with thinning, close-cropped hair,
The NY Times is famous for doing this.  Including these personal details, these physical descriptions, so that you can discount what someone is saying.  The teenage boy crack again builds the underlying background of a "man boy" with "man boy" opinions.  The "thinning" hair helps to de-virilize the man.
This ones a bit more subtle -but speaks to a certain segment of the audience
After offering me coffee, he opened a can of coconut water and sat on a tall stool at the island in his kitchen.
The way that some will read this is that he was polite.  The way that the Author wants you to read this is that he could have also offered Coconut Water, but instead he keeps the "good stuff" to himself.  Further "sat on a tall stool" – implying that he was looking down on the Author.  Where did the author sit?  Why is his the only position mentioned?
Adams's house is a shrine to the cartoon character that made him rich.
Let's make this 60 year old man, artist, into a rich man child.
structure is full of indulgent quirks
Indulgent and quirks – This guys is rich and immature.
he transformed a bar area (Adams doesn't drink…
Because immature boys don't drink.\
where his ex-wife (now Adams's personal assistant) used to host spa days for friends
What an interesting little detail right?  What kind of picture are we drawing of Adams?
Can we take a swipe at The Game real quick?
a signed copy of The Game: Penetrating the Secret Society of Pickup Artists, a book of strategies for seducing women. (Adams said he hadn't read it.)
But the Author makes it a point to say that he owns a copy.  A signed copy at that
Why exactly are we interested in this aspect of a man that predicted 45's election?  The author makes it clear.
When I visited, Adams's girlfriend of three months, Kristina Basham, was living with him, along with her two daughters. She's 28. Until recently, she maintained a website that showed her posing in a bikini, described as a model and baker, with a D cup size.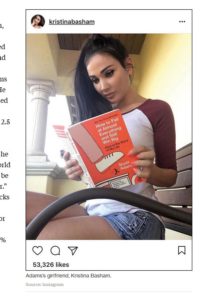 So in sequence, we had reference to the Ex Wife, now his implied suffering personal assistant.  He has a copy of the Game.  His girlfriend has merely been with him for 3 months.
Props to Scott though, this chick is really attractive.  She may be trying to play him, but there are younger millionaires out there. Even some who have no problem with her single motherhood.
But she has 2 daughters!  And she's only 28 (a. he's robbing the cradle, b. she has two daughters to feed).
"Until Recently" – so something just ended.
"In a bikini…D Cup size" – she's a bimbo, gold digger.
So the author then describes some good internet marketing and a new way to get on in this economy. (it's the same thing Cal Newport and others are promoting)
"The idea of a talent stack is that you can combine ordinary skills until you have enough of the right kind to be extraordinary," he wrote. "You don't have to be the best in the world at any one thing. All you need to succeed is to be good at a number of skills that fit well together."
This is great advice.   So how does the author undercut it?
Basham, he noted, was smart, knew model tricks about posing and makeup, and used social media hacks such as SEO and A/B testing. ("For example, although her Instagram photos are G-rated, any hint of side-boob adds at least 10% to her engagement.")
Adams takes this gold digger, that he's too old for, that he's too dumb to see through – and then the Author focuses on the most prurient detail.
Here's a salient point that somehow the Author decided to include, despite the general hatchet job here – or maybe the Author includes it to make Adams look delusional
"I'm not much of an artist, not much of a business expert, and my writing skills are mostly self-taught," Adams wrote. "I'm funny, but not the funniest person in my town. The reason I can succeed without any world-class skills is that my talent stack is so well-designed." Trump's stack, he continued, was powerful. "He isn't the best communicator in the world, but he is very good. He doesn't know as much about politics as career politicians do, but apparently he knows enough. He isn't the smartest person who ever ran for office, but he's very smart. He might not be the best business strategist in the world, but he certainly knows his stuff
What about this Gold Digger underlying message
Basham had recently persuaded Adams to take a trip to London and Zurich—the first time he'd ever traveled beyond Canada and Mexico. "I don't like being uncomfortable," he said, "and travel is uncomfortable."
The gold digger gets him to take trips to places that we know are expensive.  And because he's a man boy, he rarely travels.
Then the author decides to showcase one of his side businesses
To demonstrate the product, he showed me a timeline he'd made featuring Victoria's Secret models.
Is Adams a perv?
"I don't know how you get a stomach like that, except through lots of situps and not eating," he said, admiring one of the women.
The picture is being painted.
Why is he like this?
As a child, Adams lived in the town of Windham, N.Y., with two siblings. "I'd say we grew up in a family where no one ever hugged,
Oh, let's get Freudian!  So where did this fascination with hypnosis start? Picking up the thread from the beginning of the article – before we established that his rich man-boy, with a suffering ex wife, and a young gold digger single wife he only knows how to use her looks for money.
His mom also got him interested in hypnosis. "She gave birth to my younger sister while under hypnosis," Adams told me.
Can we some how downplay is accomplishments and also make him look pervy?
After graduating as valedictorian of his 40-person high school class, Adams enrolled at Hartwick College in central New York, which he said he chose largely because it had a nursing school and thus more women than men
Mission accomplished!
Wait is there something else we can do to make this guy look horrible?
At both the bank and the phone company, Adams has said, his professional advancement was thwarted by diversity hires. "There was no hope for another generic white male to get promoted any time soon
Later in the book, he noted that his Dilbert TV show was canceled after "the network made a strategic decision to focus on shows with African-American actors
He's a racist!  Though that's not what we talked about when I spoke to him, it's what he said in his book.  I mean, there are his words – I just didn't confront him about them when I was face to face with him. So let's finish up the character assassination.
Starting in the late '90s, Adams also launched a line of vitamin-infused vegan microwave burritos called Dilberitos, which were discontinued after a few years, and two restaurants, which went belly-up
He also wrote two religion-themed novellas, published in 2001 and 2004, which, he told me, will be his ultimate legacy—not Dilbert.
Hmm, he was behind a cockamamie product that would probably get funding today?  And he's a religious nut?
Hmm, what else can I check off the list.  Immature, Racists, Rich, Dumb, Religious?
he second novella, a follow-up titled The Religion War, describes a civilizational conflict in 2040 between a violent caliphate in the Middle East and a Christian alliance in the West. The hard-nosed hero builds a wall around the jihadists and "essentially kills everybody there," Adams told me. "I have to be careful, because I'm talking about something pretty close to genocide, so I'm not saying I prefer it, I'm saying I predict it."
Adams isn't doing himself any favors here.  He might be the Alex Jones of the cartoon game. But the Author is able to uncover but also report what Adams's says himself.
Can we rehabilitate him so it doesn't look like a full on hatchet piece?
until in 2005 he suddenly lost the ability to talk with other people. The mysterious condition is known as voice dystonia.
Damn that's kinda messed up.  But…
"Losing the ability to speak made me feel like a ghost. It was incredibly lonely." The inexplicable condition, which doctors attributed to a possible mental condition, persisted for three years.
Oh, you want me to think he's crazy.
If crazy is not good enough, maybe it's something else
Pastis says, is that Adams simply craves attention. "Cartoonists are addicted to reaction. I don't know whether Scott would admit that, but I know it's true."
Okay maybe he's crazy like a fox? Here the Author makes it a point to draw parallels between the cartoon and 45.
Trump has eerie parallels to Dogbert, who consistently gets ahead at everyone else's expense. In the '90s, Dogbert published a fake-news-filled tabloid dedicated to denouncing enemies and promoting lies about himself…
I'd thought the point of those strips was to laugh at Dogbert's cruelty—not celebrate it.
And the Author wraps everything else up.
So the reader comes into the article thinking that either we're going to get into Adams' idea that 45 is a master persuader/hypnotist – and that Adams fell under his spell.   But leaves with the idea that Adams is the clueless and also awful guy.  And mostly because Adams is hanging himself with "his own" words and actions.
This is a not-so-subtle character assassination that basically ticks off every box for things that regular dislike
Rich
Immature
Sexist
Racist
Super Religious
Anti-Muslim
Bad Business Guy
Possibly Crazy
Possibly Seditious
The Author is running A LOT OF GAME on US about a guy who runs game (Adam) who talked about another guy running game (45).
Now, in my view, Adams is probably all of these things that the Author describes.  Half the people I deal with online probably ticked off one of these boxes.  And that's not GOOD.  You shouldn't be some of these things, full stop.  But from a realistic perspective
Not all of that is objectively objectionable (Rich, immature, wanting to date attractive women, trying to do business, having mental illness, imagining alternative histories)
That cannot be the entirety of his life and his views
-Archie